I'm a big fan of speaker kits. They are a good way of getting started in do it yourself audio, a great learning experience, and best of all a way of getting your hands on speakers of a standard that would cost you more than twice as much if you bought them ready build in the store.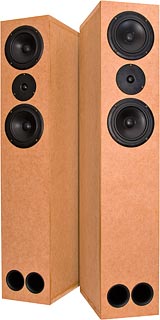 DansData has this article on building the F5 kit from The Loudspeaker Kit. This is one of the easiest types of speaker kits, where all the hard stuff is done for you. The MDF panels are cut to high tolerance, and more importantly the hard design desicions regarding driver and crossover component choice have been made by experts. This is very importand especially for a beginner. The whole job goes together like flat pack furniture.
The next step is building kits where only the drivers are provided, like from Madisound. Mastering the art of woodworking is necessary to get the qaulity of cabinet needed by a true Hi Fi speaker.
My first speakers were designed from scratch, and looking back there is so much I learned that probably should have been learned on a kit, where things are 'guaranteed' to turn out OK. Thankfully at the time I had stubborn determination!